Our first Partner in Awareness, Terrence Ho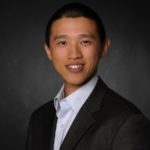 Business Analyst-Business Planning-Customer Services,
Bombardier Commercial Aircraft @Bombardier
"Within a week of Bombardier's Jeans Day Team distributing the 10 Warning Signs, we received a phone call from a patient needing help," says Richard Thompson, CEO of Immunodeficiency Canada.
Terrence Ho thought Bombardier's employee-driven Toronto Site Jeans Day was a vehicle that could help build awareness for this little known genetic disease of the immune system that affects 1 in 1200, presents as common infections, but can cause irreversible organ damage, and even death. He thought Jeans Day could help raise the profile of the only Canadian national organization focused on patient support, education and research to cure Primary Immunodeficiency. He thought he could help spread the word about its 250 recognized types, 70%-90% of which are undiagnosed.
What Terrence did is share the information with someone who needed it. As a direct result of his actions and those of the Bombardier Toronto Site Jeans Day Team, one person reached out to the organization and discovered the disease he/she was diagnosed with six years ago is a rare and particularly deadly PI. The best news is that his/her disease is treatable – not just the symptoms as his/her doctor had said – but the disease! "A little awareness can go a long way," says Terrence. "I am honoured to be Immunodeficiency Canada's very first Partner in Awareness!"
Here is how Terrence describes himself: "By day, I work with the most energetic and fun group of people at Bombardier Aerospace, a world-renowned transportation leader, on the Strategy and Business Planning Team for Customer Services. I'm very lucky to be able to work on strategic planning, customer experience, performance management, market intelligence, technology management and communication assignments! By night, I am focused on developing meaningful opportunities for people with accessibility needs through social entrepreneurial initiatives in journalism, consulting and arts."
Here is what Immunodeficiency Canada thinks of Terrence and Bombardier's Toronto Team: Immunodeficiency Canada is pleased to recognize Terrence Ho, our first corporate "Partner in Awareness". Terrence and the Bombardier Toronto Site Jeans Day Team found a way to get the vital 10 Warning Signs out to thousands of employees at Bombardier even before our new program had a name! Our sincerest thanks go to Terrence and team for providing the month of January 2015 to spread the word through January Jeans Day.
How you can become a Corporate Partner in Awareness: contact Wendy Bodnoff Community Relations.