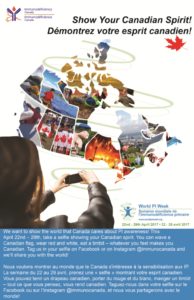 Raising Awareness, Diagnosis, and Treatment of PI Together. 
Be a part of a strong PI community!
Each year, World PI Week, held the last week of April, is a global campaign which aims to raise awareness and improve diagnosis and treatment of Primary Immunodeficiency (PI).
Explore the website to learn how you can make a difference and ultimately improve the quality of life of people with PI world-wide.
You can learn PI facts, sign the awareness petition, browse events or download resources.  www.worldpiweek.org
Immunodeficiency Canada is proud to be a part of this international effort.

For 2017, we invited participants to "Show Your Canadian Spirit"! Just click on the poster to see how.