Immunodeficiency Canada is a national registered charity providing patient support, education and research for a cure for Primary Immunodeficiency (PI).
---
---
Introducing Our Event Calendar
Ever wonder what is happening within the Immunodeficiency Canada community? Now you can stay up-to-date and get involved by checking our event calendar. Either click the link to a full page version or see the smaller version on he right hand column of this page. We hope that you find it as useful as we do.
---
LymphoSign Journal – now accepting papers!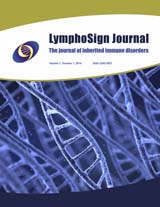 LymphoSign Journal publishes novel clinical, translational, or basic research articles aimed at clinicians and scientists in the fields of immunology, gastroenterology, neurology, dermatology, infectious diseases, rheumatology, and hematology. The focus is on defining the molecular basis and treatment of various immune disorders like innate or adaptive immunodeficiency, bone marrow failure, autoimmunity and auto inflammatory disorders and lymphoid malignancies. The Journal also publishes papers that can directly and immediately improve diagnosis and management of patients, including practice guidelines and algorithms.
Check out the journal's website at www.lymphosign.com. To submit a paper, please click here.
---

[catlist id=home numberposts=20 excerpt=yes excerpt_size=330 thumbnail=yes thumbnail_class=cat_list_tn template=custom]