Guelph Plays In Annual Baden Klein Cup:
The Gryphons Go Up Against Primary Immunodeficiency – and the Ryerson Rams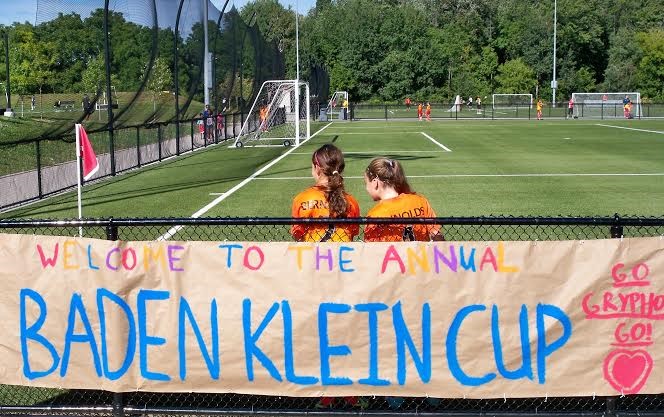 Written by: Dana Ewachow
It is a gorgeous day. The sun is blazing in a bright blue sky and a cool breeze makes the red flags on the soccer field ripple. The stands are not quite full, but supporters still choose to watch from the grassy hills, soaking up the sun. Overlooking Guelph University's soccer complex, there are tables where raffle tickets and Guelph Gryphons' shirts are being sold. Basins of ice are stuffed with Gatorade and boxes of chips stacked high. A barbecue simmers with hot dogs, waiting for supporters to pounce during an intermission.
This is the 12th annual Baden Klein Cup. The Guelph Gryphons and the Ryerson Rams play against each other for the exhibition contest. The entrance to the game is free, but donation is encouraged. The Gryphons' men's soccer head coach Keith Mason organized the event in honour of his nephew Baden Klein, who was diagnosed with WAS (Wiskott Aldrich Syndrome) as an infant. All the proceeds to the event are going to the CI Society Alastair Fund Charity, which provides patient support, education and research for a cure for Primary Immunodeficiency Disorders like WAS.
Baden's mother Joanne is working with the raffle table. She is wearing a white t-shirt with a black and white photo of Baden in the middle. Baden is only a few days old in the photo, fitting into his father's hand. The photo was taken days before he was hospitalized and diagnosed with SCID (Severe Combined Immunodeficiency). Baden was in and out of the hospital for most of his infancy. He was diagnosed with PCP (pneumocystis pneumonia), which effects those with problematic immune systems (eg. People infected with HIV). Baden needed to be placed in a reverse isolation unit to prevent his health from being compromised. Baden had 200 blood transfusions before finally receiving a bone marrow transplant. Three long months after the transplant, Baden was discharged. His parents were finally allowed to touch him without gloves, gowns, boots and hats. Baden had some setbacks after the discharge, but the transplant was still a success.
Baden looks nothing like the black and white photograph now. He runs around the soccer complex rounding up people to buy hotdogs. He's dressed in full soccer gear, clad in a Gryphon's shirt and sleek black sunglasses. He walks by the posters of himself as an infant without a care in the world. His mother brings him over to show him a poster of a pile of medicinal bottles he needed as an infant. She admitted she donated all the medications for aid in Honduras when they didn't need them anymore. Baden looks at the poster and says "Oh". He's more interested in the game.
The ultimate moment occurs in the beginning of the men's soccer game. The teams stop practicing and stand in a long line in the middle of the field. Baden stands between both teams, standing as tall as he can among the men. After singing the national anthem, both teams shake Baden's hand and prepare for the game. The Gryphons circle around him and watch as he makes the first kick. The team cheers as the soccer ball skirts down the grass. Joanne stands by with her camera armed at the ready.
The fundraiser is wonderful to see. In all honestly, it's wonderful to see people come together to raise money for a cause that is underrepresented and misunderstood. People who suffer from immunodeficiency disorders may feel distraught because they have gone undiagnosed for years. Parents with children who suffer from the same issues may feel helpless about their infants' "mystery" sicknesses. By raising money and awareness on the issue, primary immunodeficiency disorders don't have to be mysteries. With funding and knowledge we can diagnose, treat, and try to find a cure.
What's also wonderful about the fundraiser is that it shows hope. Baden Klein isn't a tragic story. His story shows that happy lives are possible after being diagnosed. Patients can leave the hospital. Patients can laugh, play and live. All this can be seen as Baden walks down the soccer field alongside his mother. He's now eleven years old and it's plain to see that he's doing just fine.