The #PIechallenge is an awareness/fundraising campaign for PI (primary immunodeficiency) ending on March 14th, 2017.
We're asking you to bake a homemade pie, post a photo of your pie on social media with our copy/paste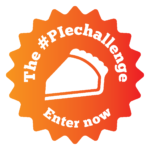 message, and tag 3 friends to take on the challenge. We encourage you to get as creative with your pies as possible. The best 3 pies submitted to Immunodeficiency Canada will be awarded with prizes! *To see our prizes and sponsors, click Read More*
Lastly, we are asking for a donation of $5.  100% of your donation will go to the cause.
Copy/paste this message on social media:
I am doing the #PIechallenge for Immunodeficiency Canada.
 What is the challenge?
1. Bake the best – the prettiest, the weirdest, the tastiest – pie you can.
2. Share the photo of your masterpiece on social media with this message.
3. Nominate 3 friends to see if they can match your baking skills.
4. Donate $5.00 to the cause at www.canadahelps.org/en/charities/immunodeficiency-canada/piechallenge 
5. Eat pie!
 If you want to share your masterpiece with Immunodeficiency Canada, you can tag or message them on Facebook, Twitter, and Instagram. Or, you could email the photo and your name to pie@immunodeficiency.ca to be featured on our social media and entered into our contest for the 3 best pies.

Prizes for the best pies
1st Place: $100.00 gift card for Starbucks coffee and a gift basket from Jimmy's Coffee
2nd Place: $75.00 gift card for Starbucks coffee and a gift bag from Dineen Coffee
3rd Place: $50.00 gift card for Starbucks coffee
Sponsors & Special Contributors for the #PIechallenge
Jimmy's Coffee Jimmy's Coffee donated a gift basket as a prize for the #PIechallenge contest. Jimmy's coffee
Dineen Coffee Dineen Coffee donated two bags of specialty coffee as a prize for the #PIechallenge contest.   Dineen Coffee
Merck The company Merck matched the funds an employee raised, donating a total of $500.00 to the #PIechallenge.
The Pie Hole The Pie Hole, a pie shop in Vancouver, contributed by auctioning off two specialty pies on their Instagram account. The total raised in the auction will be donated to the #PIechallenge.    The Pie Hole
Simply Beautiful Eating Food blogger Simply Beautiful Eating participated in the #PIechallenge and encouraged their followers to participate via social media. They baked chocolate cherry hand-pies.    Simply Beautiful Eating
Sugar Love Spices Food blogger Sugar Love Spices participated in the #PIechallenge and encouraged their followers to participate via social media. They baked an apricot, raspberry galette.   Sugar Loves Spices
The Baking Fairy Food blogger The Baking Fairy participate in the #PIechallenge and encouraged their followers to participate via social media.  They baked a Vegan Lemon Raspberry Cheesecake Pie. The Baking Fairy